Invermere Web Design
Since 2004, Navigator Multimedia has specialized in web design, web hosting, online marketing and app development for clients in Invermere, BC. Businesses, individuals and non-profits in Invermere and throughout the Columbia Valley work with Navigator Multimedia to develop and expand their online presence. Read on to learn more about the full range of services offered to Invermere clients.
Invermere Web Services
Navigator Multimedia clients have access to our full range of web design services, including:
Responsive web design
Content management systems
Database driven applications
Shopify Ecommerce
Social media marketing
Analytics
Graphic design
iOS + Android apps
Search engine marketing
Search engine optimization
AdWords account management
Email and Web Hosting
Customer Service
From the Navigator Multimedia flagship office in Kelowna, BC, our in-house team of programmers, designers, writers and marketing strategists work together to build web solutions for Invermere clients. Communication with Invermere clients is handled primarily by telephone and email. Meetings can be conducted via GoToMeeting or Skype, and Invermere clients are always welcome to visit the office in Kelowna. We value our Invermere clients, providing consistent, convenient communication to ensure satisfaction and confidence in their web projects.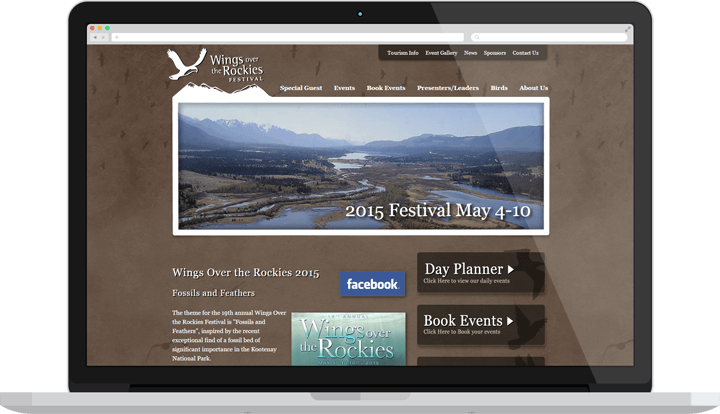 Clients
Navigator Multimedia is proud to work with a range of clients from Invermere, including HeliSprings Chalet Panorama, Black Forest Restaurant, Motel Bavaria and Wings Over The Rockies. From responsive web design to business-class web hosting, we have had the opportunity to connect with diverse businesses, individuals and non-profit organizations in the Columbia Valley region.
Here's a testimonial from Julio Esteban of Wings Over The Rockies:
"I am delighted with the new website for Wings Over the Rockies Festival created by Chris and the team at Navigator Multimedia. Chris is a great designer and I love the earthy look and bird silhouettes. It truly conveys the feel of a nature/bird festival. Chris was also perceptive and sensitive to our needs and designed the program to suit our purposes. I appreciated his patient and kind manner throughout the development of the website. The new website is easy to navigate and I love the simplicity and ease of the editing program. I am impressed with the professional and efficient standard of the team at Navigator Multimedia and I would highly recommend their services to anyone looking to have a special website. Thank you all!"
Get In Touch With Us!
Contact Navigator Multimedia to speak with a representative about our Invermere web design services. We look forward to hearing from you!