5 Excruciating Signs It's Time To Update Your Website
The mullet. Short at the front and sides, long and wavy in the back. During it's prime in the eighties, the mullet hairstyle broke hearts and commanded respect.
And then something changed. Time passed. Hairstyles evolved. Tastes shifted. The mullet became outdated, and yet it lives on.
When a trend become outdated, the meaning changes. A website with all the fancy bells and whistles of 1999 takes on a new meaning in today's technological landscape. It's not the powerful, high-class piece of art that it was then. Now, it's laughable (just don't say that out loud to Warren Buffet about his company website).
Where mullets and personal identity are concerned, I'm all for staying true to yourself. But when it comes to representing your company online, you're best advised to keep things up to date. As Crazy Egg contributor Joseph Putnam says:
"A website's design often provides the first impression customers have of a company. If the design is outdated, disorganized, cluttered, or uses unappealing colours, it creates a poor first impression."
So if you haven't taken a look at your website's design since your last major hairstyle change, now's the time. A few small updates could make all the difference in attracting customers and increasing online sales. Here are our 5 painfully obvious signs it's time to update your website:
1. Your website on mobile devices? Two words: squint and pinch
Who needs responsive web design when you have a pair of reading glasses, right?
Get real! If you need to squint your eyes and pinch the screen to read your website content on a tablet or smart phone, you're ready for an update.  We know it's been "The Year Of Mobile" every year since 2011, and for good reason. Mobile users are still being forced to browse desktop sites, talk about frustrating!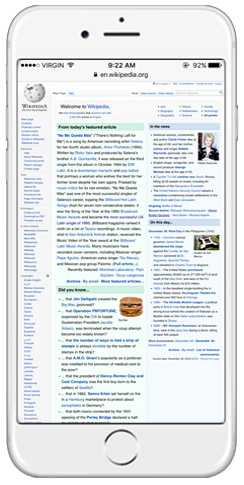 If your website is still mobile unfriendly, please consider updating it, the world will thank you. You may be slightly behind the curve, but it's far from too late to start capitalizing on the benefits of a mobile responsive website.
2. Your e-commerce website is mobile friendly, but most people check out on desktop
This is a common story we see with websites that are between 3-5 years old. The business owner invested in a mobile-friendly website, but it isn't doing as much as it could be.
Consider upgrading your shopping cart to something newer. In the last few years, focus has shifted heavily into making mobile shopping far friendlier.
New features make it easier for your customers to browse your products, add them to the cart, and checkout. Less frustration during each of those steps means more sales for your business!
Talk to us about some of the new choices available today, especially if your site is WordPress.
3. The copyright date is any year but this one
Do you trust milk to be delicious when its carton has an expiration date from last year?  For the sake of your guts, I hope not.
So why should anyone trust a company with an outdated copyright date? It's a small detail in the grand scheme of your website design, but it matters- especially to your customers.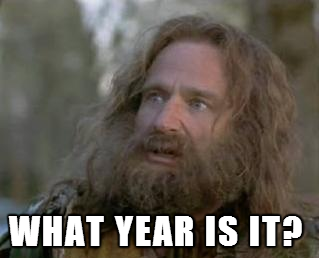 All it takes is a quick email or phone call to your web design team to make the change.  This one doesn't require any real work, but can let your customers know your site is current. A current website provides more value.
4. Wait, didn't you just read that? Your website has duplicate content
A few years ago, it wouldn't have made any difference whether you had the same text on more than one page on your website.
Today, Google algorithm updates Penguin and Panda have created serious repercussions for website owners hosting duplicate content.  It's a SEO no-no now.
So if you want to keep your rankings, or make them even better, enlist your web design team  to remove that duplicate content and replace it with something fresh, original, and search-engine-righteous.
5. Making simple updates to your website is a daunting, uncertain task
Old, out-dated content is harmful to your website's health. Besides cluttering up the place with completely useless information, stale content is often the elusive cause of customer conflicts and confusion.  And like we said, it puts search engine rankings in a chokehold.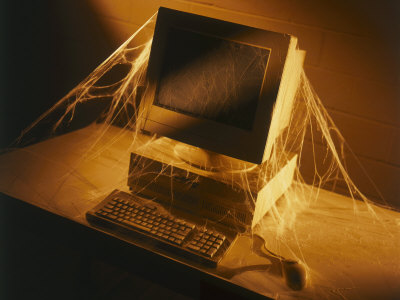 But maybe you already know all this. Perhaps you're ready to make the changes needed, but don't know how to get started. If so, it's time to ask your website designer about your current content management system.
Your content management system (CMS) is the backend tool that lets you publish content to your website. Using a CMS can be as easy as editing a Word document.
Today, frequent content updates are valuable for improving search rankings and keeping your customers informed with the latest news about your company. You should have the power to make those updates whenever you want.
That's why you might want to talk to us about your options for a CMS that's easy for you to control.
With so many choices out there, from WordPress (including our own version) to custom systems, there's a CMS that can put you in control of your content.
Bonus sign that it's time to update your website
Are you already using Wordpress, but are facing confusion when trying to make changes? Or perhaps you're worried what'll happen when you hit that update button you've been neglecting for well over a year? These are signs you should talk to your web developer about updating your website. We highly recommend it for your peace of mind.
What else is irritatingly outdated? Leave a comment below!
See Also
So You Wanna be an Online Authority? Here's How to Get Started [Part 1]