Google has implemented a new announcement feature that highlights a website's COVID-19 updates in search results. Here's how your organization can take advantage of this tool to spread time-sensitive announcements about the coronavirus.
The circumstances of COVID-19 are rapidly changing and organizations are continuously adapting their response. During these unprecedented times, it's vital to ensure that web users receive the most up-to-date information. This is particularly important for:
Government agencies

Health organizations

Schools
Due to this novel demand, Google introduced COVID-19 Announcements. This new feature displays urgent announcements with a collapsible menu containing a small summary and resource links. See below for an example of a special announcement in search results.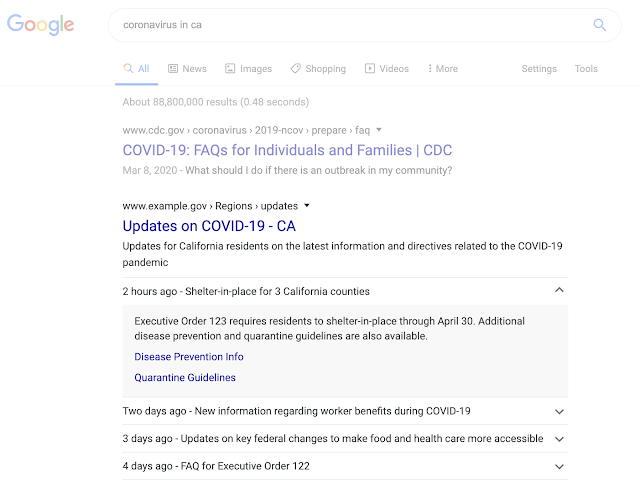 How Do I Submit a Special Announcement?
There are two options to submit an announcement for your organization's website. According to their recent webmaster blog, Google recommends using structured data to submit your COVID-19 announcements. Alternatively, special announcements can be submitted through Google Search Console (GSC). Although it is not Google's recommended method, using the submission tool in GSC doesn't require the use of structured data, which makes it more approachable and user-friendly.
How To Submit COVID-19 Announcements Using Google Search Console
We've created a quick guide to help you submit your coronavirus announcements using Google Search Console.
1. Confirm You're a Verified Site Owner
To submit through GSC, you are required to be a verified owner. This means that you must prove your website ownership to make edits that affect how it appears in Google search results. If you're not verified owner in GSC, here's Google's instructions on how to verify site ownership. If you have Admin access to Google Analatics, your site will automaticaly verfiy ownership in GSC.
2. Open the Submission Tool
Click below to launch Google's submission tool for making special COVID-19 announcements.
Note: This tool is currently a BETA version and may not immediately display your submission in search results. Additionally, this tool will not support news articles, as it is currently focused on health and government organizations.
3. Select the Type of Announcement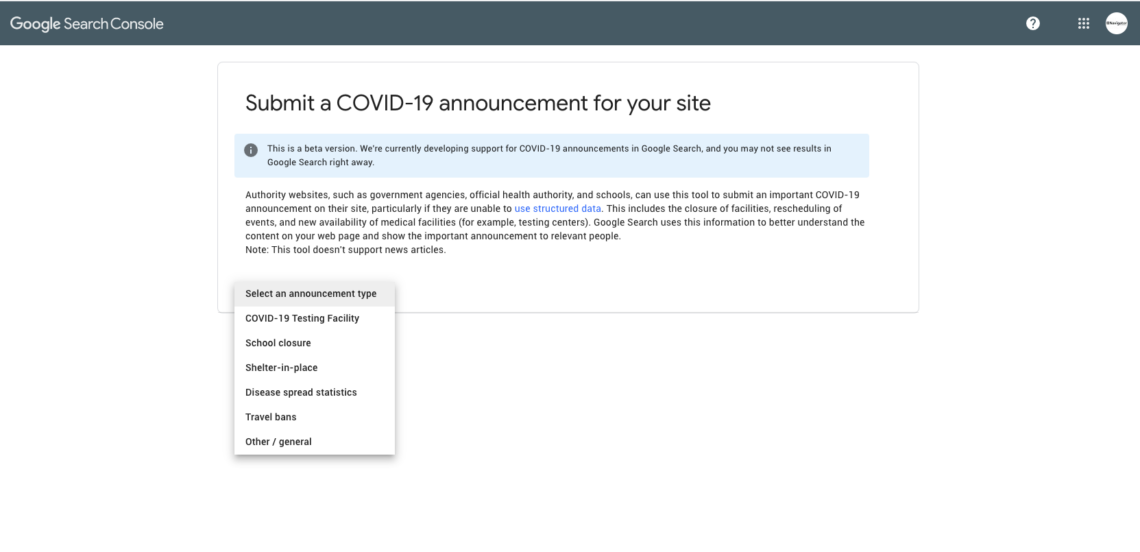 To begin, you must choose an announcement type. Select the type of announcement that is most relevant to the information you will be sharing. If none of these types fit your COVID-19 announcement, then select other/general.
4. Identify the Search Console Property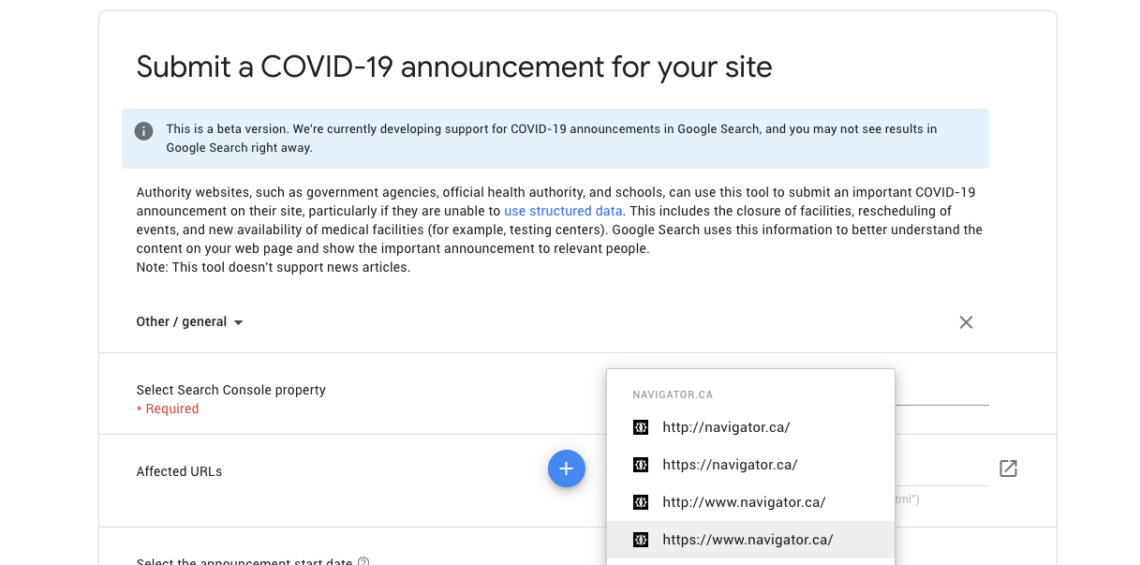 Some users may be verified owners on multiple Search Console Properties. To make a submission, you are required to identify which website will be linked to your special announcement.
5. Indicate Your Announcement Date Range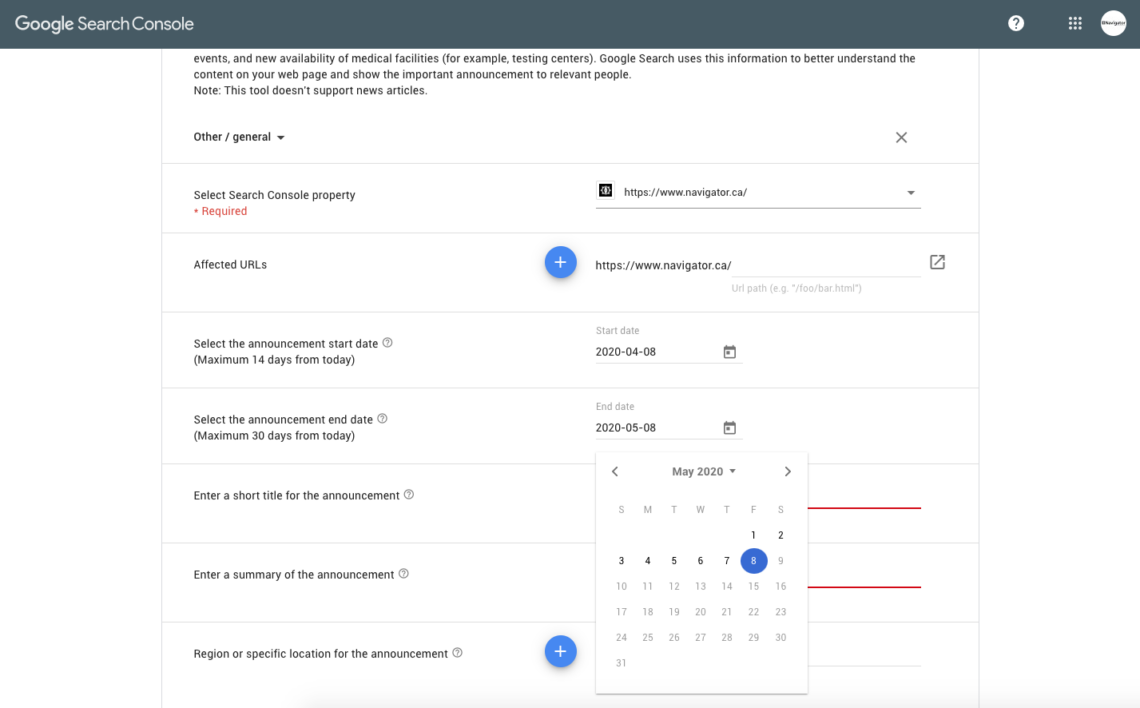 Select a date range for your announcement to appear in search results. Google Search Console does not require you to choose a start and end date for your COVID-19 announcement, however, it is advantageous to complete it. If you do not select an expiration date, then your announcement will expire 7 days after posting. Note that your COVID-19 announcement will appear in search results for a maximum of 1 month, as this tool is intended to short announcements.
6. Enter a Title and Summary

The title will appear as an additional heading underneath your website's regular snippet in search results. When a user clicks to expand your COVID-19 announcement, then the summary will appear. Both a title and summary are required and must be less than 240 characters to submit your announcement.
7. OPTIONAL: Identify a Region For Your Announcement

This tool allows you to identify a region or specific location where your COVID-19 announcement is relevant. Note that this is an optional field and is not required to submit your announcement.
8. OPTIONAL: Add Informative Links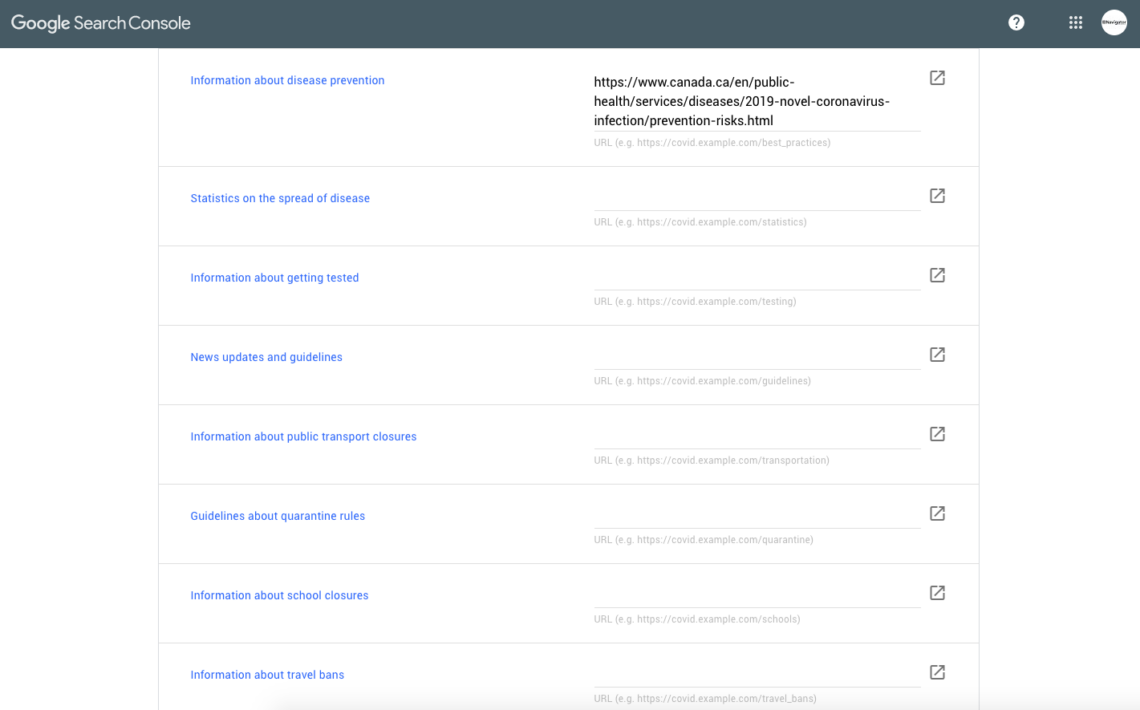 Based on the topic of your coronavirus-related update, it may be helpful to link an informative webpage. The submission tool provides 8 optional fields where you can link relevant webpages to inform users about topics related to your COVID-19 announcement.
9. Hit Submit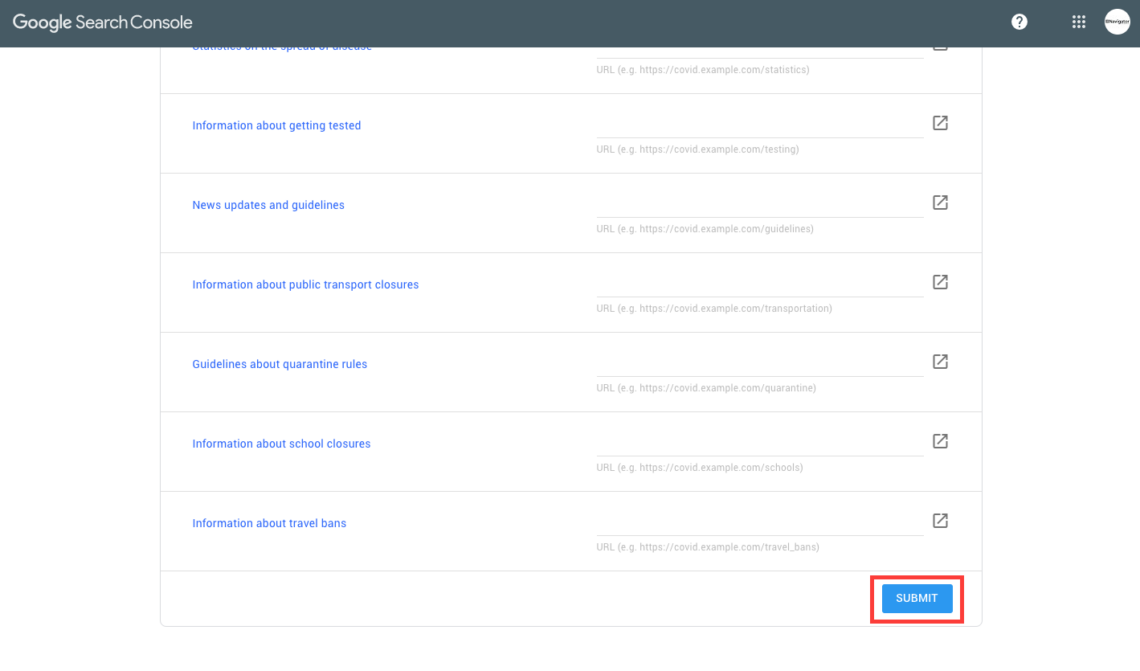 When you're finished filling out all the necessary fields, be sure to submit your announcement to GSC. Once successfully submitted, you'll receive a notification that your announcement was received.
---
Use COVID-19 announcements to feature your organization's vital information in google search results. Please note that this new tool is intended for short-term use and may be subject to change as Google continues to develop it. See Google's Blog for information on how to submit your COVID-19 announcement using structured data. If you need assistance making your announcements, get in touch with the Navigator team. Stay safe and healthy everyone.