Google Prioritizes Mobile-Friendly Websites
Is your website mobile-friendly?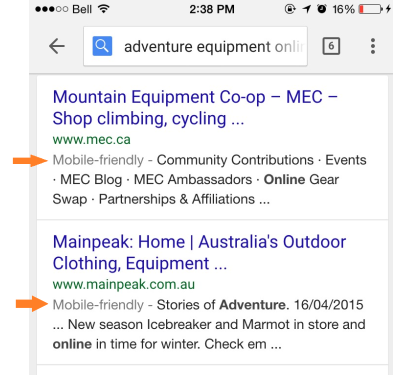 Note: As of August 2016 the "Mobile-friendly" label has been removed. Sites that are mobile friendly are now prioritized in search listings by default (Source)
Google has rolled out a significant change to its algorithm by including mobile-friendliness as a ranking signal for its mobile search results.
Basically, it will give priority in mobile search results to mobile-friendly websites.
A mobile-friendly website adheres to the following criteria provided by Google:
Avoids software that is not common on mobile devices, like Flash
Uses text that is readable without zooming
Sizes content to the screen so users don't have to scroll horizontally or zoom
Places links far enough apart so that the correct one can be easily tapped
I would recommend reading the rest of Google's blog post about mobile-friendly criteria if you have a minute.
And if you want to check on the mobile-friendliness of your website, run your URL through Google's Mobile Friendly Test .
How to make your website mobile-friendly
It's important that your website be easy to use no matter which Internet-enabled device your user is accessing it from, whether it's a smart phone, tablet, desktop computer or whichever new device comes down the line.   Responsive design is an approach to web development that works to deliver an fluid and accessible user experience across all devices, all within one website. Consider it a one-size-fits-all strategy.
Responsive web design for mobile-friendly websites
Taking the responsive web design approach is a cost-effective way to make a website mobile-friendly, because instead of developing separate websites for different devices, your resources are focused on a single website build. Once the site is live, you can make edits on the fly without having to manage multiple websites.
A big bonus to implementing responsive web design is knowing that it is Google's recommended configuration for smartphone-optimized websites. Read the whole post from the Official Google Webmaster Central Blog for more details about Google's recommendations for building smartphone-optimized websites.
If your site is mobile-friendly, there's still room for improvement
The mobile user will behave differently on your website than the desktop user. Restructuring the mobile navigation or adding "tap" elements to the mobile design will improve user experience. Data from Google Analytics is a good place to start when looking for behavioural discrepancies between different user segments. Mobile users tend to have a shorter attention span; search engine experts anticipate that optimizing for page load times could play a factor website performance on search engines including Google.
Contact us if  you have any questions about optimizing your site for mobile-friendliness, or about Google or digital marketing. It's not too late to improve your site for greater search rank on Google.
See Also
Small-Screen Ready: Best Practices for Mobile Content