Social Media Marketing: Not To Be Approached Like A Chinese Buffet
The Chinese buffet seemed like the right choice for dinner that night.  Every option on the white-linen draped table looked salty and hot for the taking. Surges of hungry customers lingered with faux-nonchalance behind you, plates gripped in greedy hands, ready to pounce on that last spring roll. You felt the heat.  You loaded a plate up until almond chicken practically toppled over its mountain of fried rice on to the ground.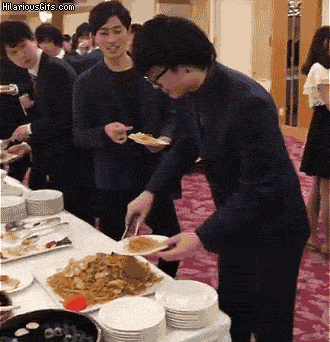 Leaving the competition in the dust, you fast-walked back to your table and ate. You ate until you felt queasy, with sweat dripping off your forehead into a pool of sweet and sour sauce. Once the noodles and pork had cleared its way out, you noticed that the wonton soup up at the buffet table had been replenished. Your stomach clung tight to the sides of your ribs. "No," it groaned, "please, no more!"
"But it looks so fresh," you hummed in response as you filled a bowl, tickled by how you'd certainly be getting your money's worth out of this place.
One wonton. Two. That third one felt bad. Fourth, boom: you jogged sluggishly to the bathroom at the far corner of the restaurant, and were reintroduced to your Chinese buffet meal. In all it's spewed, slimy glory.
Lesson learned, for now. In the next year or so you will recover from the MSG overload and give the Chinese buffet another chance. Your digestive system is resilient like that.
We often approach social media marketing for our small businesses in the same way that we tackle a Chinese buffet. Unfortunately, the time and money invested in social media marketing doesn't have the same resilience as our stomachs. Skip the regret of piling too many platforms on your plate, and get picky about what social media tools will deliver on your company's marketing objectives.
Oh, but Twitter, YouTube, Facebook, Pinterest, LinkedIn, Instagram, and Google+ all seem so urgently important to your small business' web presence!
Do not be tempted to believe that every platform is necessary for your small business web presence to grow. Your competitors are not snatching up profiles for every platform, either. If they are, that's their indigestion to deal with.
How do I choose social media platforms?
Approach every "dish" on the social media platform buffet with these qualifications in mind:
Does my target audience use this tool?
Does this platform fit my business objectives? (Example objectives:  promoting a new service, raising brand awareness, increasing customer loyalty, guiding users to an e-commerce site).
Do I have the content or the means to create content that suits this platform?
Can I create value for my target audience on this platform?
Are my competitors here? (Hint: if they are, you should probably stay).
If you're unsure about these, consult with your web team to gain a better understanding.
Conclusion
Belly up to the buffet with clear marketing objectives for your small business social media presence, and you'll find that you aren't as hungry as you thought.  Hone a strategy for content creation, delivery, and building relationships on your choice platforms, and leave with room for dessert.
The social media marketing team at Navigator Multimedia here in Kelowna, BC, can make social success even less daunting. Contact us today or find us on social media: Facebook and Twitter