A Simple Guide to Google Ad Extensions
What are Ad Extensions?
Google Ads Ad extensions are extra snippets of information that can dress up your PPC ads. These extensions help your ad stand out on the SERP by taking up more space than ads without extensions. They also help your customers take action right from your ads, reducing the number of clicks they need to make to find the information they need. Ad extensions can help increase your ad relevance, and in turn, boost your Ad Rank and click-through rates by 10-15% according to Google. 
How Do I Use Ad Extensions?
Google recommends adding all extensions that are relevant to your business, and then they do the work of choosing which extensions to place on which ads.
To enable ad extensions, log into your Google Ads account and find "Ads and Extensions" in the toolbar on the left of your page, then select Extensions at the top of the page. To add an extension, click the plus button and you will be prompted to choose which type of ad extension you want.
What does each Ad Extension Do?
There are ten types of ad extensions, which all serve a different purpose to enhance your ads. This list describes each ad extension and can help you decide which ones are right for your ads.
1. Sitelink extension
Sitelink extensions present multiple opportunities for the user to click on your ad. By providing separate links, the user can choose specific pages of your site to visit, based on what they're looking for. Someone interested in improving their SEO might google "digital marketing services Kelowna" and the Navigator ad above which gives them the option to go directly to our SEO services page.
While sitelink extensions are great for taking up more real estate on the page and giving users more options to click, they don't work for everyone. You won't want to use sitelink extensions if you are running an ad campaign that directs users to a specific landing page.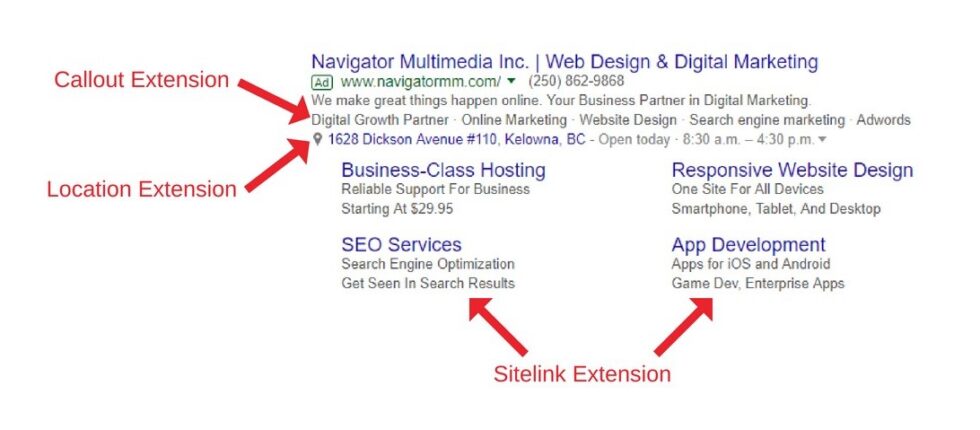 2. Callout extension
Callout extensions are very broad and customizable. The callout goes in the body text and each callout is separated by a little dot. With callout extensions you can display your companies services, locations, products, product categories, or write a single call out message such as "we're hiring" or "open 24/7."  These callouts, unlike sitelink extensions, are non-clickable text.
3. Location extension
Location extensions can provide great visibility for local searches. The intent for local search queries is typically much higher than other types of search; users searching for local businesses are looking for products near them, phone numbers, and store hours. Clicking on the location extension opens up a map with the directions to your store location.
4. Structured snippet extension
Structured snippet extensions are similar fields of non-clickable text like the callout extensions. The snippet follows the structure of (heading: value 1, value 2, value 3,…etc.) and is great for listing different features in your ads. You choose a header type such as amenities, brands, or types. When you select a header it will suggest values to populate your snippet, for example when you choose amenities it will suggest the values: pool, wifi, and fitness center. You can also customize your own header, like this ad that lists services for Roto-Rooter.

5. Call extension
Viewed as phone number on a desktop or a call now button on mobile, you can get call conversions straight from the SERP with call extensions. For many services, people don't need a lot of information before they make a call. Someone looking for plumbing services, might see this ad and call the number right away, without even clicking to visit the site.
6. Message extension
The message extension is a relatively new feature. Similar to the call extension, the message extension allows users to contact your business upon viewing the ad by sending you a text message, a feature that's only available on mobile devices. You can even customize a pre-written message so all your customer has to do is hit send.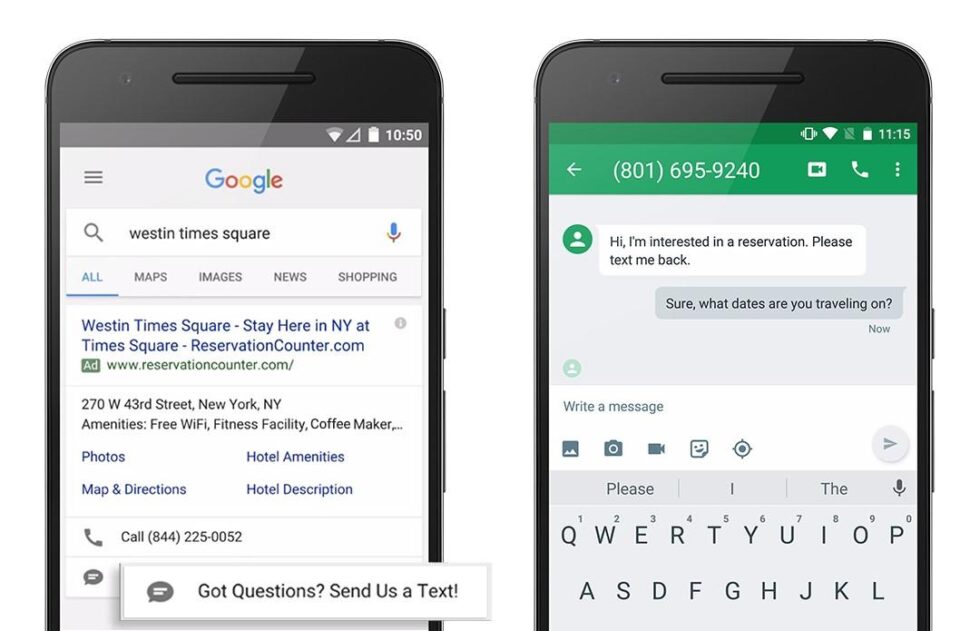 7. Affiliate location extension
This extension is for manufacturers that sell products in retail stores to help customers find where to buy their products. There are only a select list of Canadian retailers to choose from right now, but I suspect that this list will grow, so if your retailer isn't listed, hang tight!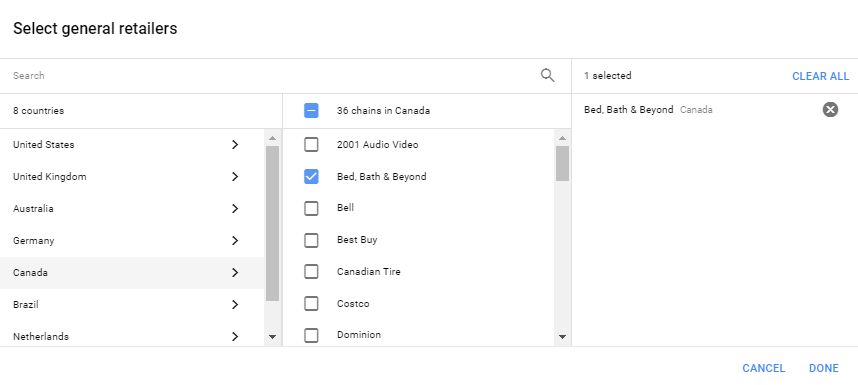 There are 2 categories of retailers to choose from: auto retailers and general retailers. If you "select general retailers" you are prompted to select your country before you can see the retailers available, and then can select all the retailers you sell your products through. On the SERP, affiliate location extensions will fire relative to the users' location, to show them which retailers are nearby.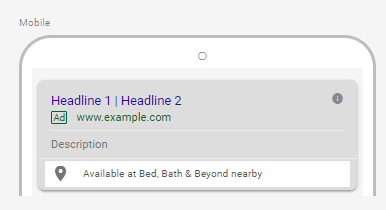 8. Price extension
Price extensions came out in 2016, and are an excellent choice for anyone advertising products or services. This extension allows your ad to list different products or services and their price in your ad. On mobile devices these ads can take up almost the whole screen, and the user can scroll to see more products.
To customize this extension you first select your language, currency, type, and price qualifier. Type differentiates products, services, and events. Next, you create all your price extension items. The header is the name of the product or service, you enter the price and a description of what it is. You also customize each items URL so you can direct users to a product page for this item.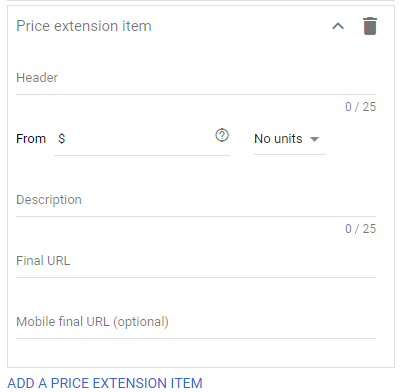 9. App extension
App extensions help advertisers drive downloads of their apps. The app extension gives customers the option to download the app right from the SERP with a button that links them to their app store. App extensions only fire on mobile devices because they require connectivity to the app store to download the app, which you can only do on mobile devices.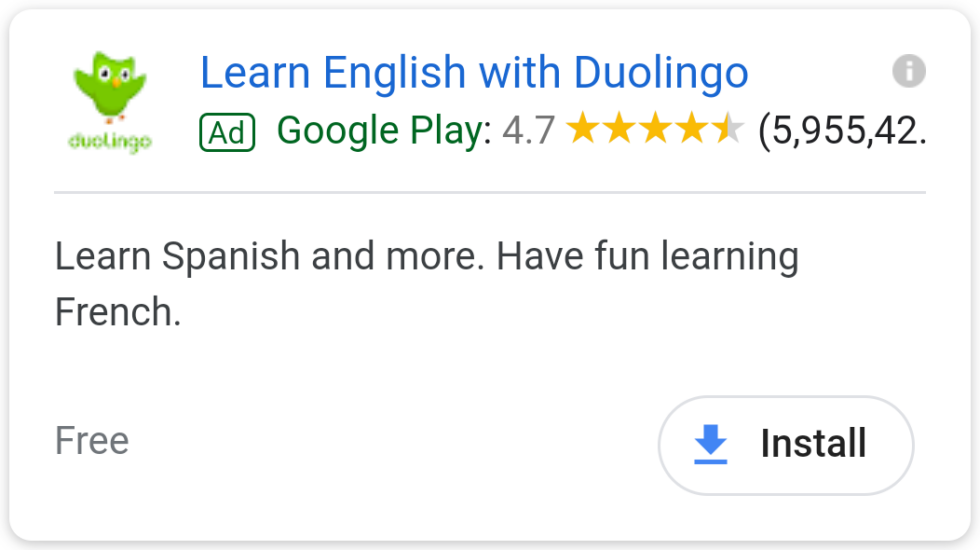 This ad for the app Duolingo includes its rating on the Google Play store and gives the option to install the app right from the SERP, bypassing the need to go to their website or search for it on the App Store.
10. Promotion extension
Promotion extensions allow you to customize your ads for different promotions your business is offering. There are several occasions you can select from including Christmas, Black Friday, Valentines Day, and back to school.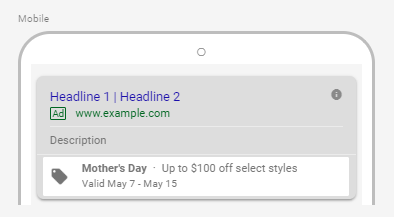 You also customize the offer type as either a monetary or percentage discount, with the option to discount "up to" the selected dollar amount or percent. You select the item you wish to promote, the URL to link it to, and promotion details; which give you the option to use a promo code, or for the discount to be on orders over a certain dollar limit. Lastly, you can customize the schedule for your promotion extension to run in coordination with promotions on your website or in stores. You can select the dates it will run and schedule times of day.