Changes to Google Ad Grants and what this means for Non-profits
If you're a Non-profit and currently run a Google AdWords account, forward this to your account manager.
Changes are being made to Google Terms and Conditions that will impact how your account will qualify to keep your monthly budget in good standing.
If you're a non-profit that does not know of Google's Ad Grant program you can find out if your eligible first before starting the application process. You will need to be a registered charity with TechSoup, but qualified organizations receive up to $10,000 per month in Ad Spend.
---
Now, whats changing?
1. No more CPC bid limit
Google is wanting to have a bit more quality control over the advertising user experience. As more non-profits are added to the program, cost per click gradually goes up as valuable keywords get more competitive. Google recognizes this and will be lifting the $2 CPC bid limit.
This will allow non-profits to bid on more keywords, more relevant to their initiatives. A lot of non-profits have been "priced out" of keywords that are relevant to their initiative from this $2 CPC bid limit, forcing more creative and broad targeting practices from account manager.

2. 5% min. CTR
One significant caveat here is the new click-through rate performance minimum. Google requires at least 5% CTR to be maintained on the account. The previous minimum was 1%. This change in CTR will require improvements to ad copy, targeting and account strategy. CTR is a signal of relevance, and it makes sense that Google would want to raise this minimum to prevent low quality or unmaintained ad campaigns.
3. Landing Page Experience (website)
After the AdWords click, Google wants to make sure the user sees consistent information on the landing page. This means the user search query is relevant to the ad copy clicked on, which is relevant to the content on the landing page.
An abuse of this might be a non-profit bidding on "disaster relief", writing ad copy that is about disaster relief to get the CTR minimum, but the landing page is about food bank donations. This is a bad experience for the user that clicked on the ad, and Google is trying to prevent this.
The best practise here is to make sure your website has complete, transparent information about your non-profit and your initiatives.
No broken links
No heavy assets or widgets that can slow mobile load-time
Mobile compatibility
I'd also recommended that you follow conversion best practices and have the right tracking in place to make the most of your grant.
Conclusion
These changes along with a few others mean that ad account managers may need to improve their strategy to stay within this new compliance.
Improving Ad Copy, improving keyword targeting, and this new allowance to increase bid will improve average position and help make that 5% CTR achievable. Overall these changes are a good thing. They incentivize better, more relevant advertising. Its better for the potential customer and the non-profit.
Google only allows a 2 month grace period and if these new changes aren't met the account will be suspended. So it's important that non-profits that are participating in this program know of these changes!
Relevant Links
Non-profit Search Ad Examples
1. This is a relevant ad for this search query. Good use of ad extensions, site links and relevant display URL. Nice work WWF!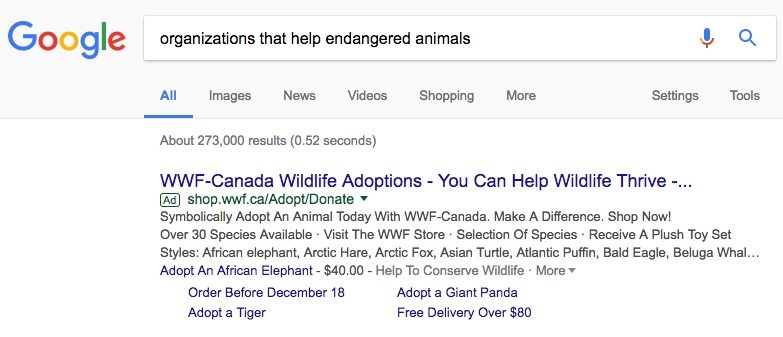 2. This example does not match. While this is fair play, it will be challenging for U of T to maintain a 5% CTR on this type of placement.

3. Here is a good example of the Ad Headline matching the search query exactly. Good use of extensions as well.