Content Marketing: Writing TOFU content for your business blog
No, you don't need to be a vegetarian restaurant to publish TOFU content!
In the world of digital marketing we sure love our abbreviations. I'm going to take the top of your sales funnel and apply it to your customer journey in Google Search. Thats a mouthful of TOFU but this post will go in detail on what I mean and hopefully change your perspective a bit on why content marketing is important for any business.
TOFU = Top Funnel
This blog post applies the sales funnel, buyer journey, and search engine marketing to help you better understand why businesses blog so you can find opportunities for yourself.
Potential customers rely on Google Search at varying points throughout their buyer journey. From the question of "what am i looking for?" to "I need to hire this specific business" there are over 3.5 billion search queries processed by Google every day (Source, 2017).
Google does a pretty good job at helping us learn and find information online, even with the ever-evolving search behaviour. And while not all search queries are relevant to your business, there are a lot of people still looking for answers to problems that you can help them solve. This can take the form of a DIY or explainer video on YouTube, or a helpful blog post on your website.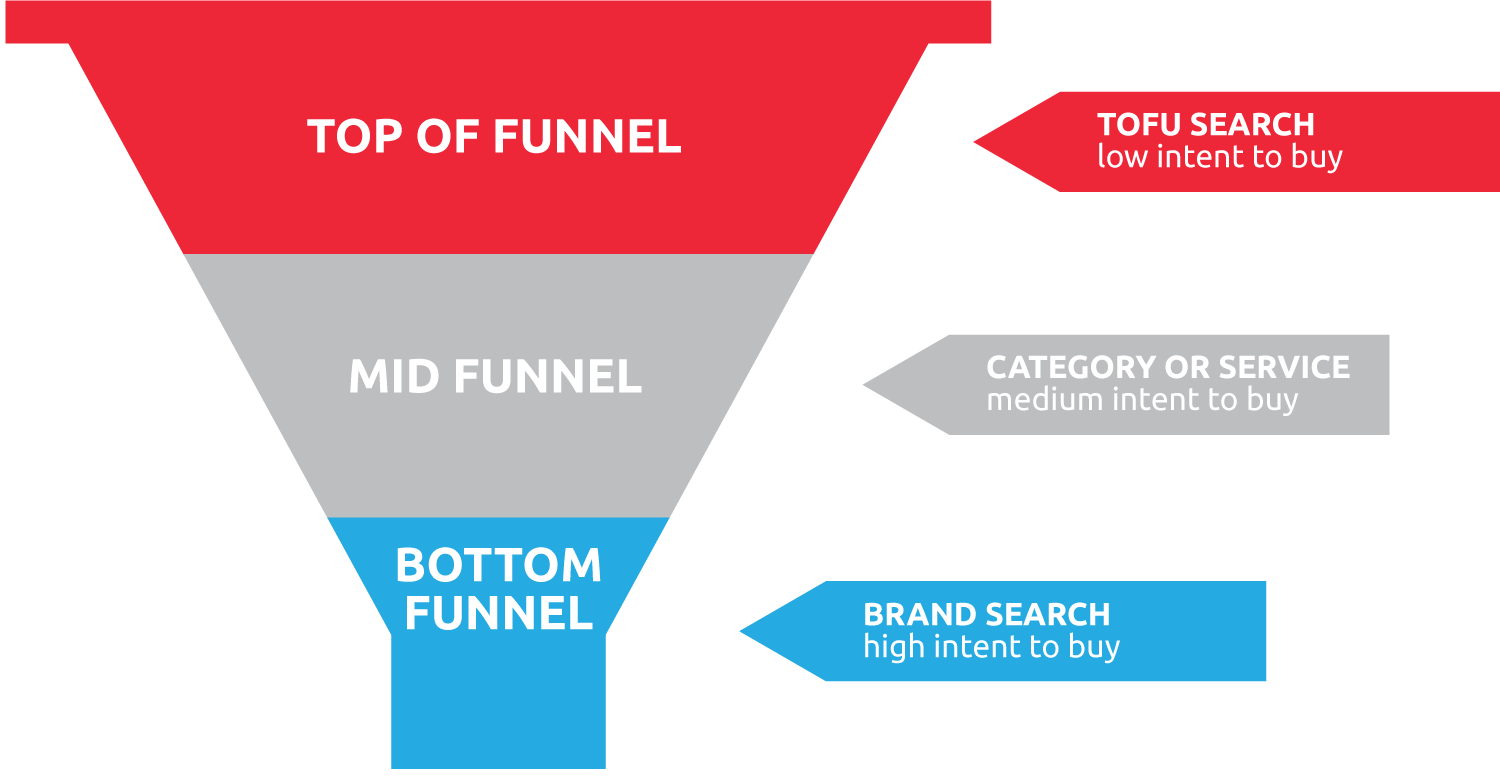 To expand on each section of the funnel I'll use our digital agency as an example, Navigator Multimedia Inc.
Brand Search (high intent to buy) [bottom funnel]
Example Search: "Navigator Multimedia" "Navigator Kelowna" "navigator media" or variants.
These are people that have heard of our business before, may be a returning customer, and they are likely looking to contact your business, complete a transaction, or simply find our business hours. There is the highest possibility of "conversion" or purchase intent with this search group.
Business Category or Product/Service (medium intent to buy) [mid funnel]
Example Search: "Website design company" "digital marketing company kelowna" or other products/services that are relevant to our business. The person making this search does not yet know which business to hire, but they are looking to browse options before making a decision. This is where local SEO is very important, especially if a business can only serve customers within a specific area.
TOFU Search (low intent to buy) [top funnel]
Example Search: "How to improve [business type] online marketing" "Best ways to generate B2B leads online" or other educational, exploratory-type searches. The person making this search might not have a clear idea of their problem. They are gathering more information on a subject or looking for ideas on how to take the next step.
Search Volume and how it relates to the Search Funnel
Search volume is a measurement of demand, by looking at the approximate number of search queries made within a specific time period. Tools like Google Trends, Google Keyword Planner, or SEMrush can give you insight on keyword-level search volume.
Brand Search

Brand Awareness will correlate with brand search volume. Established businesses with returning customers and a market presence will have greater brand search volume than a new business smaller business starting out.

Business Category or Product/Service

This is the space where most businesses will want to rank in organic search. For many small businesses local SEO is important, and there limitations to how much business can be generated here. For example there is a finite number of people searching for "kelowna real estate" in a given month. That search volume is a limitation on business growth even if your business ranks well organically for that query.

TOFU Search

Search volume here is much greater because the topics of content can be much more broad than your business name or category. The beauty behind TOFU content is that it offers an opportunity for your brand to provide utility very early on in the relationship. Useful content has far greater potential to earn links (other websites linking to your post as a reference) and it's far more likely to be shared on social media vs. your website service pages or your homepage. Over time, useful TOFU content will have a positive effect on "Brand Search" volume and the website will gain stronger authority in the "Business Category or Product/Service" space.
TOFU Search presents the largest content marketing opportunity. If a business can create content to provide value on a top funnel search query, the business is effectively leaving a positive brand impression on the visitor very early on in their buyer journey.
The caveat here is that it must be helpful, valuable content. Otherwise it will struggle to rank in Google at all. As a small business it can take time (in some cases years) to earn links on quality content if it isn't being promoted in some way.
Common ways to promote and distribute content once published
Blogger outreach
Crossposting

Linkedin, Quora, or other places in your niche where customers looks for answers

Paid Promotion

Adwords (Search or Remarketing)
Facebook Newsfeed Ads or Retargeting
Linkedin

Email campaign from your subscribed list
Using AdWords To Promote TOFU Content
This definitely goes against your typical direct-response, monthly ROI AdWords campaign. But suppose we had an archive of relevant, useful blog content but due to the competitiveness of the business vertical, we just couldn't rank on the first page within a reasonable amount of time. Maybe some content was ranking, but in position 8-12.
Well, maybe we could bid on keywords relevant to the subject of the blog post or problem it solves. Yes we can expect lower conversion rates, but I'm also willing to bet your competitors are not doing this so we can expect the cost-per-click to be much lower than a product/service keyword.
AdWords Promoting Top Funnel Content Example
Here is a good example of Gillette promoting content to fill the top-funnel need of those looking to improve their shaving. Their display URL is their homepage, but after clicking you end up in the correct spot here: gillette.ca/en-ca/shaving-tips.
Those that click the ad will hopefully find your content useful and have a positive experience with your brand. Those that do not click the ad might still see "Gillette" in the sponsored section of the search results, and at least serve a free brand impression in that split second. Nice work Gillette!

Suppose the average AdWords cost-per-click (CPC) on a service/product search relevant to your business is $5. From experience, It is safe to assume a top funnel search phrase that points to a useful blog post could average out at 0.50 CPC.
So the question becomes:
Would you rather 200 TOFU clicks for $100 ($100 x $.05 = 200 clicks)
Or 20 Mid Funnel clicks for $100? ($100 x $5 = 20 clicks)
In this scenario a business is able to buy 10x the top funnel search traffic with the same ad spend. So if the top funnel search traffic converts greater than 1/10th the conversion rate of a mid funnel search we have ourselves a worthwhile ROI.
This probably depends if you're B2B, B2C, and your specific customer search behavior. If you're in Ecommerce, it is common that user search behaviour is very price sensitive at the mid-funnel. If your business is not a low-cost provider it might not make sense bidding on keywords specific to your products if the search results have multiple advertisers and Google Shopping Ads.
This is worth testing, but as we market to the top funnel audience we lose confidence in our attribution. Depending on the buying cycle that TOFU user might have found your content helpful, but isn't ready to buy for another 6 months (if ever). This can be problematic with conversion tracking when cookies expire after 90 days, or if the user turns back to Google Search on a different device to convert. Another challenge in attributing ROI is if the sale or conversion takes place in the offline world (eg. retail store).
However, another upside to promoting TOFU content is connecting people that are looking to solve a problem, and your content fulfills that need. This can be an effective way to earn links, social media shares and mentions. Now we see benefit on the SEO side. See – TOFU can be consumed and shared in different ways!
Have you had success with creating TOFU content for your business? Leave a comment below or send us a message on our Facebook Page!
Related Blog Articles on Content Marketing: