How to Write Click-Worthy Ad Copy for Google Search Ads
PPC ads are great, but copywriting can be a pain, and get in the way of seeing results.   No matter how good Google's algorithms and automated features are, you still need strong copy to get those clicks and conversions.
Here's a list of 7 Google Search Ads copywriting tips to help you improve the performance of your PPC ads. 
Take Up Space
Let's start with the different components of your ad. There's the headline, display URL, body text, and ad extensions.

The headline and body sections have set character limits and by all means, max each out! You want your ad to take up as much space as possible to catch your customers' eye. But keep it relevant, don't get fluffy just to take up space. Another way to take up space is to enable ad extensions. These are the extra snippets of information like your store's address, phone number, site links, or services. Google selects which extensions to fire and when, so you don't want to rely solely on these to drive clicks. Make sure your core message is still in your headline and body text.
Consider The Buyer Journey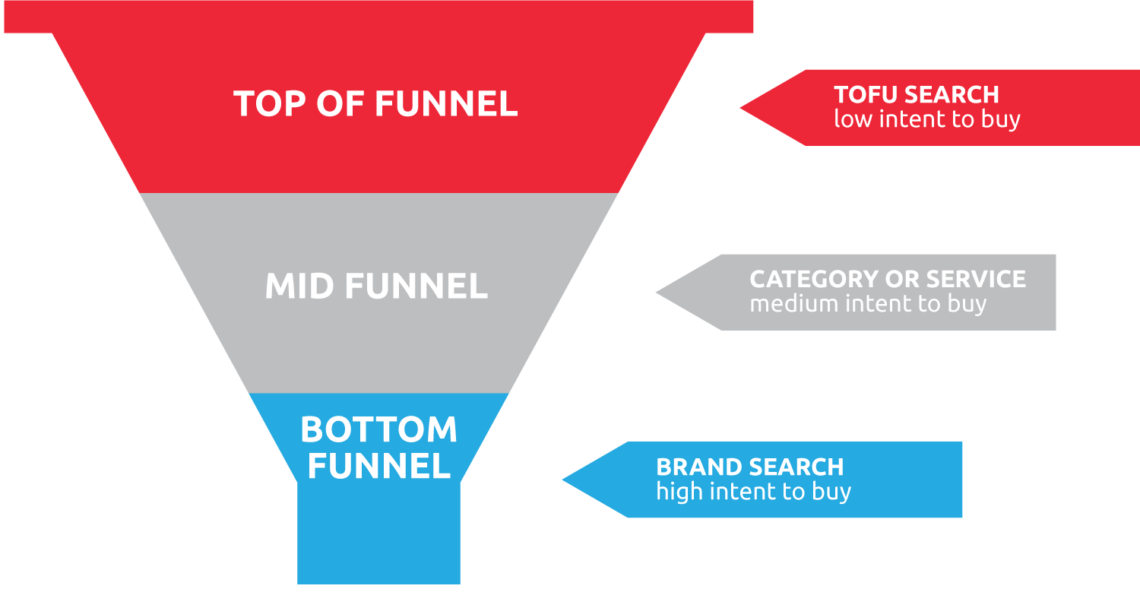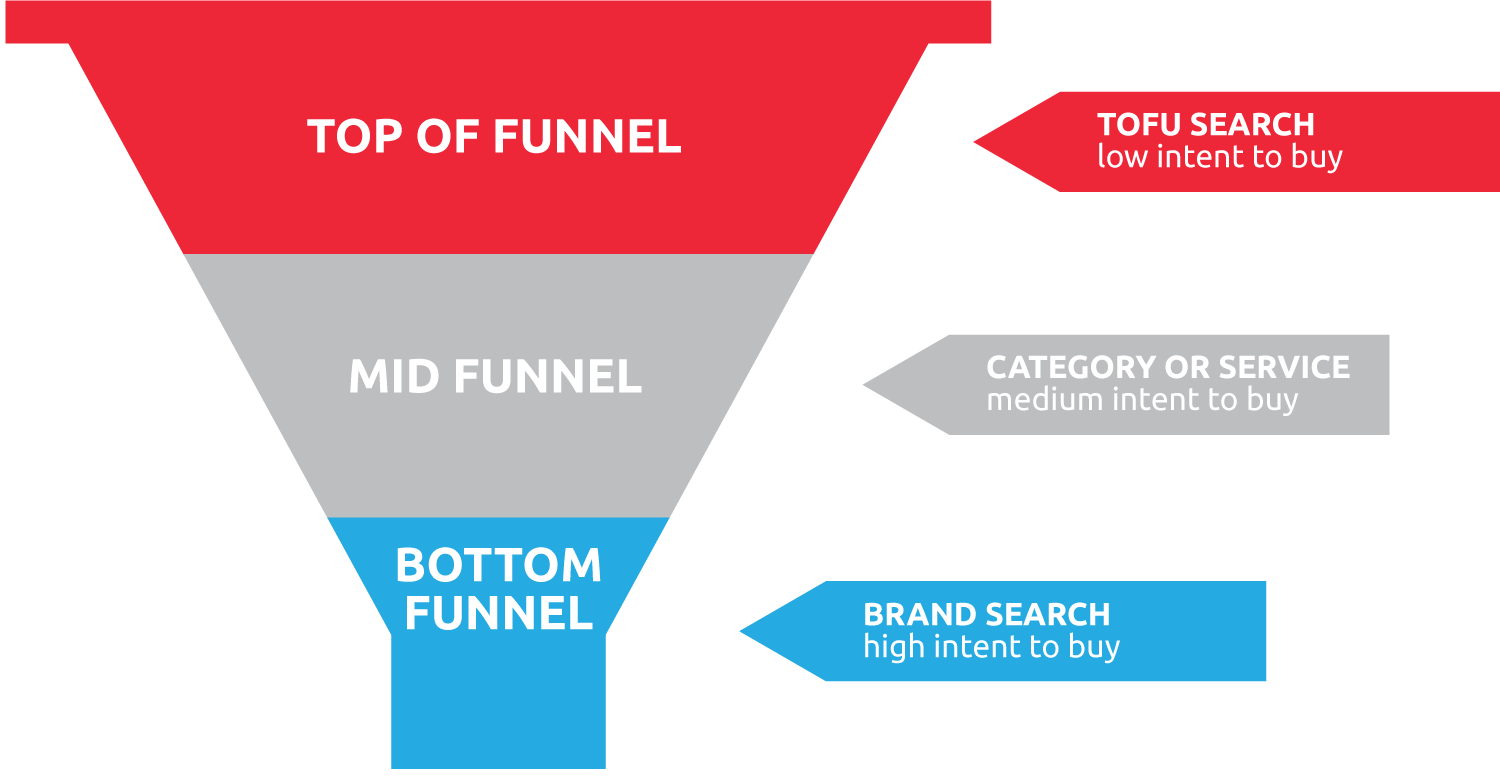 Where your customer resides in the buyer journey can have a huge impact on the nature of their searches. If they're searching very broadly and have low intent to buy, your "buy now" call to action is not going work on them. And on the flip side, if they're searching very narrowly for your specific brand of product, they're not going to be impressed if your ad takes them to an informational page. Think about which stage of the buyer journey you wish to target customers with your ads, and curate your ad copy to fit for that buyer. Think about what their search goals are at this stage. What keywords will reach these customers, and what call to action you think they'd respond to?
Mirror Your Customers Intent
People making Google searches always do so with intent. They need an answer to a question, or they want to learn, shop, or buy something. For a consumer to click on an ad, it has to meet their needs and match their intent. People are looking for the ad that seems to read their mind, that makes them say "yes, this is what I'm looking for!"
When you're writing your ad copy you want to mirror your customers intent to make them say this. Think about the question they're typing into the search query and craft your ad to have the answer. A tip from Joanna Wiebe of Copyhackers on how to do this is to write out the phrase "I want to…" then put yourself in your customer's shoes and fill out the blank!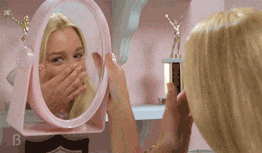 You can also do this by strategically placing your keywords in the headline, body, and display URL. For an ad to mirror a search it should have the same keywords, this assures the customer that what your advertising is what they're looking for. Even the display URL can impact this. If the Ad is talking about a specific product the customer is expecting to be taken to a relevant landing page with that product on it. Even if you don't have a landing page for this you can make it clear in your ad that it's going to send the user to the right place with a display URL.
Focus On The Benefits
Forget FAB (Features Advantages Benefits). When it comes to PPC you need to FOB (Focus On the Benefits). Features are things that the product can do, benefits are things you can do with a product. Consumers are more interested in the later. In other words, they don't want a ¼ inch drill bit, they want a ¼ inch hole. Think about the end goal your customers are trying to get to with your products and services. How do you make their lives better or easier?
Use Numbers And Stats
Humans love seeing numbers. Like shiny things, for some reason, they just catch the eye. "Helicopter Tours from $55" is a good example of this. Using numbers in ad headlines has been proven to boost CTR. In addition to price and promotions, you can display numbers in the form of statistics, something that can convey credibility to your audience.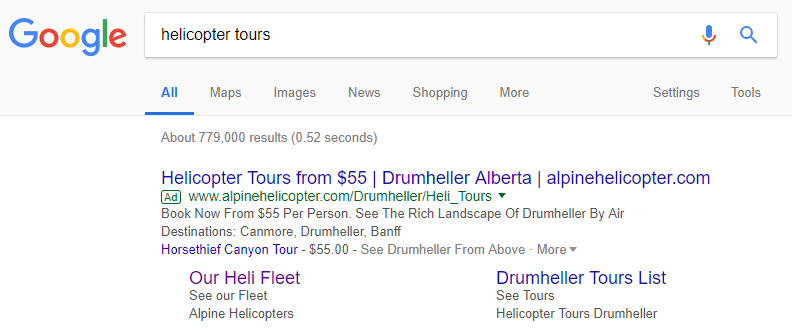 Target Local Markets
Local searches provide customers with a sense of trust and comfort knowing that they're dealing with a local business, not a faceless corporation.  The volume of location-related searches are growing rapidly, and businesses that aren't using location in their ads are missing out on huge opportunities. Google statistics show that three out of four people who search for something nearby using their smartphone end up in the store within a day and result in a purchase 28% of the time.
If your business doesn't have a storefront that depends on foot traffic or if your services can be provided remotely you might be thinking that local searches aren't important. Web design and digital marketing services, for example, don't rely on foot traffic and don't even require face-to-face interaction. Take another look at Navigator's PPC ad above. That's right, "Kelowna Web Design" a keyword we use to rank for people searching for our services in Kelowna. Even though these searches don't require face-to-face interaction, people prefer to know its an option if they want it, because people like meeting in person. 
Play On Their Emotions
Using emotion in copywriting is one of the most effective ways to engage a customer. But, it can be difficult to achieve in PPC ads when you have such limited space. To make an ad evoke emotion doesn't always mean that the ad needs to make you laugh, cry, or scream with rage. These online grocery ads, for example primarily focus on features of their business. The last ad states that "grocery shopping doesn't need to be difficult" which triggers an emotion we've all experienced in the packed aisles of the grocery store when you can't find the ingredient you need; frustration.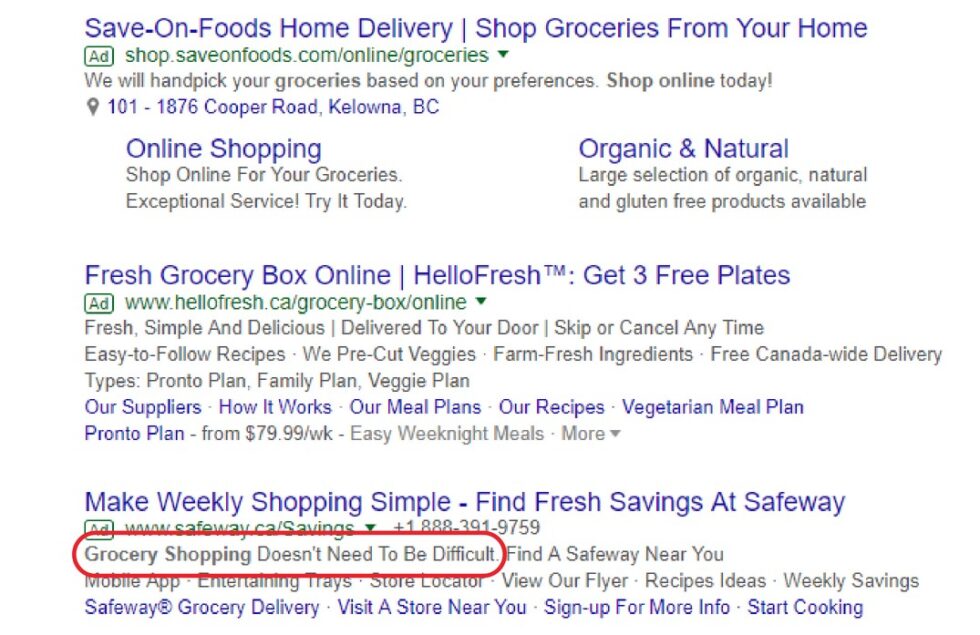 A Unique Call To Action
Every good Ad has a call to action, and maybe this is the reason they can become stale. We always see ads with "buy now" "call now" and "click here" and we're getting sick of them. Don't get me wrong, every ad needs a call to action. Remember: people making google searches do so with intent. And you need a call to action to match this intent.
A customer wants to order takeout, they already know what they want, they just need a number. Your ad hits them with that "call now" and they're ordering faster than you can say Kung Pow chicken.  But if you want to stand out among all the other "call now" ads then it's time to break out the thesaurus and come up with a call to action that's unique.
Need help with your Google Ad account? We are a team based out of Kelowna, BC Canada, but have customers all over North America. Send us an email or call and we'll be happy to help!
Related Blog Articles on Content Marketing: