How To Manage Malicious Google My Business Reviews
Google My Business reviews hold so much power for local business. It's freaking scary. And amazing! But also scary.
I've had more than one client refuse to claim their Google My Business listing, even when they were aware of the SEO benefits they were missing out on.
The anxiety is around exposing their business to public reviews. Not because they're bad at what they do, but because of the seemingly widespread malicious intent of certain web users to knock down the reputations of others by posting false, negative and low-rated reviews on their accounts.
It's a valid concern, and from what I've learned from speaking to other managers, it impacts some industries more than others.
To those clients, and to anyone who is apprehensive about claiming their Google My Business page because of these fears, I say:
Don't let the bullies win.
There are two core reasons why you need Google reviews:
1. Social proof
Here's one of the most nauseating statistics you'll read today: 84% of respondents in BrightLocal's 2016 Local Customer Review claimed to trust online reviews as much as a personal recommendation.
65% of the world's Internet-accessing population use Google, so you can see where these numbers are going. Google My Business reviews have been touted by experts as "critical", "essential" and "incredibly important" for persuading prospects to choose you over the other guys.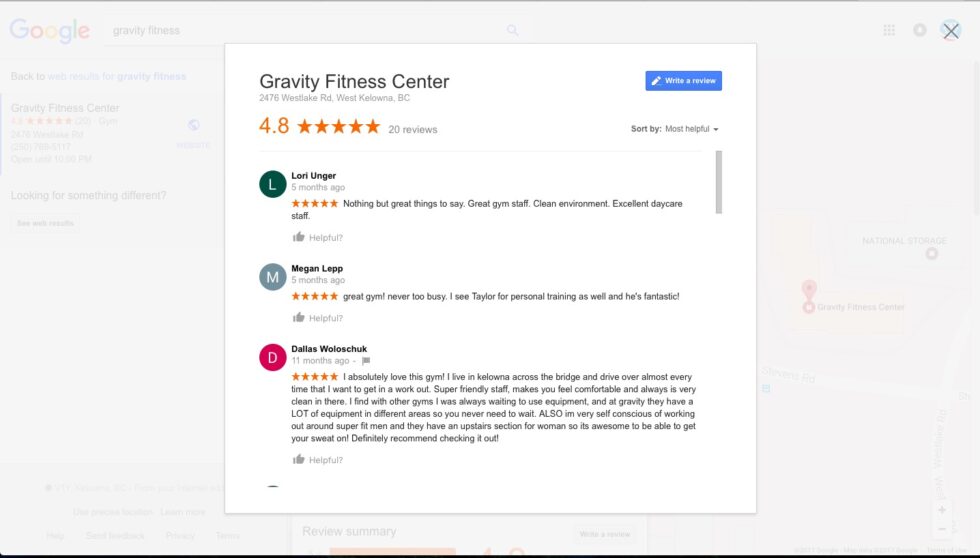 You can write brilliant, down-to-earth copy all day, but it will always be trumped swiftly by the authentic words of an outsider.
2. Local SEO voodoo
Anything Google-made is going to have a bit more of that special SEO sauce in it, so there's that for starters.
There's also Google's push from last year to emphasize local listing usability for mobile. So you know, when you're driving around at 3AM looking for an open Chinese restaurant in Kelowna, Google has your back.
And of course, the map. You know what map I'm talking about. It consumes prime above-the-fold real estate at the top of each search query. Put your hand up if you use the map. Here's a sample from the last time I used the map: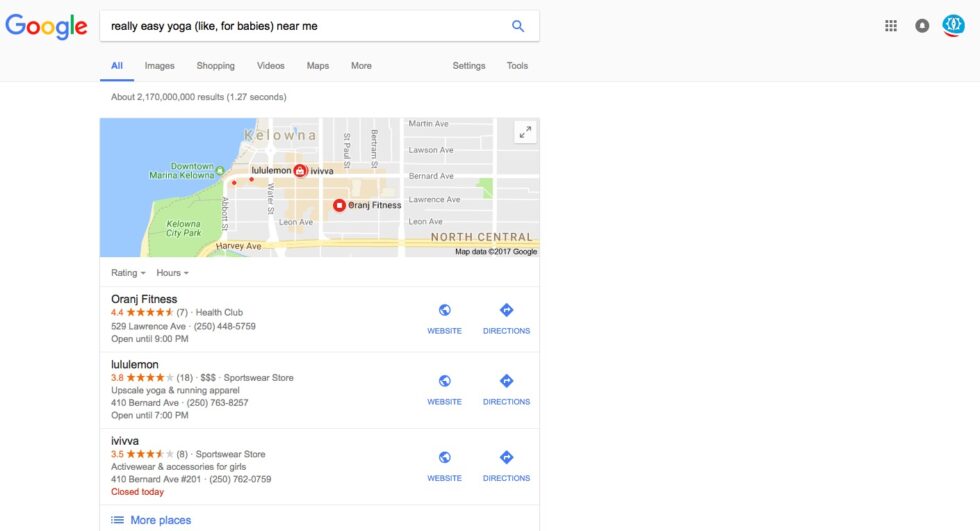 SEO and social proof – two benefits from a free, Google-built product. As our marketing director Scott would say, claiming your Google My Business page is deliciously "low-hanging fruit".
I challenge you to claim your space as a business on Google, armed with the know-how to address false, defamatory or otherwise detrimental commentary on your profile.
5 tips for effectively managing Google My Business reviews
Monitor daily
It's important to check on your account often because as the profile administrator you have the power to respond to each review. The faster you follow up, the better impression you leave on others browsing your reviews.
via GIPHY
Thankfully, Google makes it dummy-easy to keep track of. You can receive email notifications when a new review is posted.
Routinely encourage positive reviews
The more reviews you have, the easier it is to submerge the negative ones down to the lowest, hidden depths of your profile.
The best time to ask for a review is after a client expresses appreciation for a job well done. Your response to such an exchange could look something like this:
"Thank you, it makes me so happy to know you are pleased with our service!
Would you happen to have a Gmail account? If so, it would mean a lot to us if you left us a review on our Google My Business page. Here is a direct link to post on our account: http://goo.gl/wmwhMI 
If you have any questions about this, please let me know and I would be happy to help.
Thank you in advance,
Very grateful business person." 
Some notes on your approach:
Make it easy for the person to leave a review (by providing the link in your request).
Inquire about Gmail (Google) accounts. Having a Google account is the only requirement for leaving a review.
Say thank you a bajillion times.
Respond like Paul Newman
You are one classy cat, right? So when you get a belligerent post coupled with zero stars, you do not retaliate with a fuming, fiery pile of defensive language in your response.
No! Instead, you stand up, go to a window, take three deep belly breaths, and escape in your mind to being immersed in a bathtub full of cooked, multi-coloured spaghetti noodles.
Ahhhhh.
Now you're in the right frame of mind to respond.
Like any good writing task, this high stakes piece of content should take time. You want to address the reviewer from a place of deep knowledge and sincere concern. This may involve speaking with your staff or going back through meeting notes, calendar updates or emails to gather all the evidence of what happened (if indeed something did happen).
Remember: every review is an opportunity to have your brand voice heard strong and true. People are watching. Make it count.
Added bonus: responding to reviews can provide a welcomed little SEO boost.
Tips for composing a classy, effective response Paul Newman would admire can be found over at Vendasta – they really say it best.
Flag or report to Google
We are so #blessed to have a 133 billion dollar multinational technology company behind the most powerful search engine in the world. Google Search is an institution. And as such, it has rules. Glorious, strictly adhered rules to help make the world a better place.
Here are the top hits from Google's review and photo policies:
Keep it clean: Potty-mouths and bullies are not allowed.
Impersonation: Pretending to be someone you are not is creepy and terrible. Don't do it.
Hate Speech: It's 2017 and the world is awful, but let's make Google's world a little less so. No. Hate. Speech.
Off-topic reviews: Don't be a troll and go on and on about something lame and nonrelated to the place you are supposedly reviewing. This ain't a forum for personal, political or social rants.
Conflict of interest: Writing a review on behalf of your business is a conflict of interest. Writing a review in return for a bribe (cash, discounts, social status, a pony – whatever!) is a conflict of interest. Got it?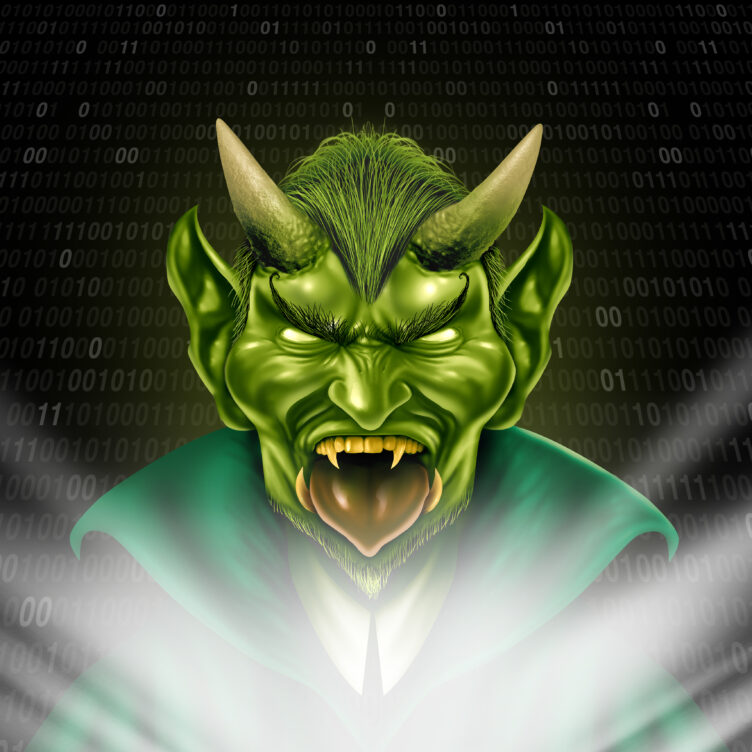 Calling the bullies out
If you notice a review on your profile that you believe to conflict with one or more of Google's policies, good news:
You can flag a review.
To 'flag' sounds flimsy, I know. But it works. You have the control to remove reviews so long as the reviews you flag meet Google's policy, or else it could get you in trouble.
So before you flag a review, go back to your window for some deep breathes. Re-read and reflect: "Is this review suggesting a critique of my business I simply do not like or disagree with?" If so, prepare your response with a thank you and an apology if needed. Feedback is valuable, even the negative kind.
If not, prepare your response with a clear-cut apology (or at least a dose of sympathy), and an opening to move the conversation offline. And then flag away.
Flagging a review kicks back to Google, so don't expect an immediate response.
Follow the rules yourself
Chances are 88% likely you are part of the consumer population reading product and service reviews before making a decision.
So how would you feel to know the reviews you assess with so much diligence and severity are most likely "alternative facts"? In other words, everything you read is fake.
What a bummer that would be! Who would you trust in assessing the highest value steak house in your community?
On that note, you are obviously going to refrain from the following:
-Bribing customers to leave reviews with cash, discounts or gifts.
-Leaving untrue reviews on your competitors' profiles, or bribing clients/staff to do so on your behalf.
-Generally being a troll. Don't be a troll. No off-topic bad-mouthing, rants or divulging of confidential or personal information.
Next time I Google "frozen yogurt places with unlimited free samples," I expect only the most comprehensive of responses.
Keep on truckin'
The gut punch reaction to receiving a bad Google My Business review is truly one of life's fleeting miseries. If it happens to you, follow our recommendations for managing your Google My Business reviews. Remind yourself of the wonderful good you put out in the world. Acknowledge your imperfectness as a human. And keep on truckin'.