So You Want An Online Event Calendar? 5 Questions To Choose The Right Solution
When my boyfriend proposed a move to Smithers, BC., I did my research. Between an image search of the downtown core and a deep dive into local real estate listings, I found an event calendar online that gave me a unique snapshot of the goings-on in the community. There are film festivals and brewery game nights. Art shows and wellness retreats. Sounds like my kind of town. But am I sold on moving to Smithers? You'll have to read to the end of this post to find out.
Event calendars are useful for a variety of website verticals, including non-profit, tourism, business, arts and community. Done right, they can also provide a sweet SEO boost for your website by way of event name search. More on that later.
There are two ways to get an online event calendar for your website:
If both avenues seem elusive, keep reading. In this post we provide you with the questions to arm yourself with when assessing online event calendar solutions. Save time and money by choosing the right option the first time around. Know what to ask and how to decide what to get.
Here's what to ask:
How reliable is the source of this event calendar solution?
The sheer volume of event calendar products for sale (and for free) online is overwhelming. You can filter through the clutter by judging reliability.
Just as you don't want your web agency to pack up and leave town unexpectedly, you don't want your event calendar software to ditch out either.
A reliable event calendar solution provider should equip you with a person (email/message system at the least – bonus points for a real human on the phone!) to talk to about its software history. You want to be assured that the core functionalities have not been removed or modified beyond recognition. It's also going to give you confidence to know the company has been around for more than a couple of years, and has scrolls of happy customers.
How does the interface look and function on mobile devices?
The most dazzling online calendar product in the world is only as good as its mobile interface.
If you're going with an out of the box solution, you should be able to test the system on mobile before committing.
For a custom solution built by a web development agency, request to include mobile interface mockups before programming begins, so that you can get a sense of how it will look and function on a smart phone and tablet.
How much do I gotta pay for this thing?
Product cost ranges from free to thousands of dollars. The cost for yours will depend on what you need and for how long.
For example, if the online event calendar feature is more of an experiment for your website for now – you just want to test the waters and see how your audience reacts to it – go for something low-cost or get on a free trial of a service before investing in something beautiful and/or custom.
If the event calendar is a primary feature of your website, reliability and functionality are king, and you should be prepared to pay for it, either in a charge ranging from $15 – $99 a month, to a one-time cost between approximately $700 – $2300.
A custom online event calendar solution will typically lean on the higher end because it is built to spec for your needs.
NOTE: When you purchase a custom solution, you should be assured by your agency that you will have ownership of the site files after it is completed and integrated into your website.
'You Get What You Pay For' is a meaningful slogan when it comes to web products and services, but that doesn't mean you can't pay it smart. If you are hooking in to a monthly charge for the long haul, hit up the sales team for a loyalty discount. When working with an agency, inquire with your project manager about your options for agile development, starting with the core features and building it out over time to have all the custom fancies.
Do I get support for my solution, and can it grow/change with my needs over time?
Most Software as a Service (SaaS) companies and development agencies alike loudly promote support as an added-value to their offerings. However, the definition of support may range dramatically from company to company; some might direct you to an email address to send questions to, or an FAQ document, or an offshore call centre. Or they might have an entire team of 'Customer Success' team members, or a dedicated project manager for your custom solution.
In any case, take stock of your support options before committing to a solution. An event calendar is typically a complex feature, and at the very least you might have questions about how to work the damn thing.
On the growth side of your event calendar feature, try to describe how you imagine your event calendar working in five years' time. Do you foresee expansion, or an evolution of needs? What will change within your organization? What will stay the same; what will you need to be constant, or need to be flexible?
SaaS products typically offer tiered services where the most feature-heavy packages are the most pricey. Does the high end of the SaaS work for you, or do you anticipate needing something a bit more niche?
A professional development agency should be open to providing you with an agile option, so that you can build on to your existing solution over time, and improve it as needed.
Will this event calendar improve my site's SEO?
If you're going to go to the work of creating events and/or managing submissions, you might as well benefit from an SEO boost on your website, right?
When you're scoping out event calendar solutions, ask about whether or not each event 'post' is created with an individual link connected to your website domain. SEO friendly URLs are valuable to Google and your prospective user alike because they tell both more about what the post is about.
SEO-friendly URLs are also easier to share on social media and in emails because they are clean-looking and often describe what the event is about.
For example: www.visitpenticton.com/events/live-music-sundays
This SEO-friendly URL describes the event and gives it an easy-to-remember place all of its own on the Visit Penticton website.
With an entire, singular post dedicated to Live Music Sundays, Visit Penticton has a well-SEO'd event page on its hands. Google search queries for longtail keyword phrases such as live music Penticton or live music on Sunday in Penticton are more likely to display this event link in the first page than not because the URL is so specific, and the content on the post itself is likely going to match that URL description.
Your online event calendar solution should be compatible with Google Event Schema, which is 'mark up' on your event pages that primes Google to recognize them as viable as rich snippets to show in unique event-style formatting on the top pages of event-type search queries.
Here is an example of the high (and special!) visiblity on Google Search that you can get for your events with the help of Google Event Schema. These are Page 1 search engine results for an 'events in montreal' query.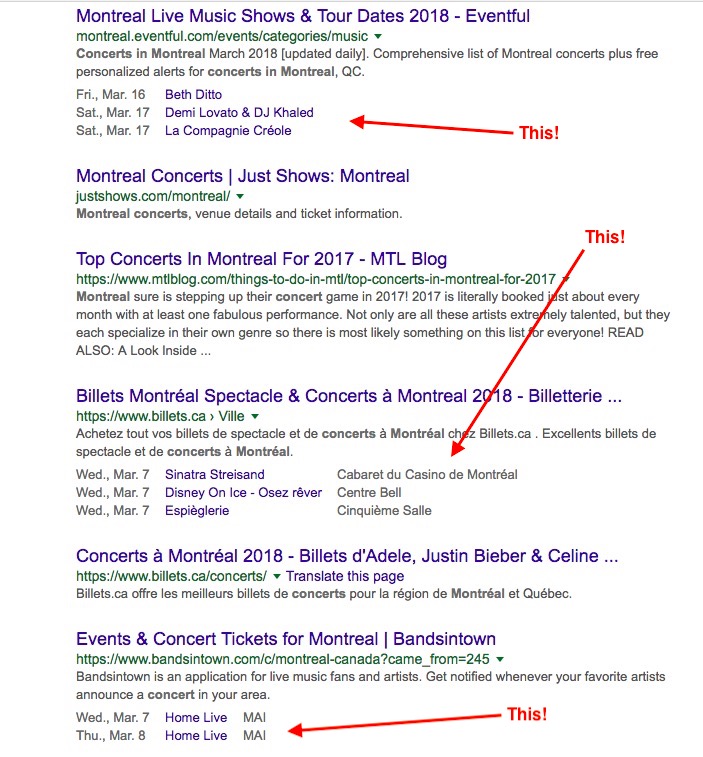 Now you know what to ask before you commit to an online event calendar
If you have any further questions or would like to request assistance in finding the right solution for your website and organization needs, contact me at our Kelowna, BC office.
That's right – I won't be in Smithers. Not today, anyways!